Pressure Washing House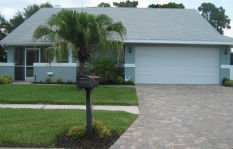 If your home is being over run by the growth of algae, mold and mildew or if it is just dirty, you're not alone so don't be discouraged. Pressure washing the exterior of a home is a huge chore without the proper equipment and/or supplies for the job. Other factors include the time it takes and the amount of work that is required.
Pressure washing a property may be hard for a novice but the time and effort spent is very rewarding. Not just having a beautiful home that looks years younger, but from the aspect of your properties value, which is greatly increased by pressure washing properly.
Pressure washing your property is a smart investment and does more than just make a home look beautiful. One of the most important, as mentioned earlier, is the increased value of your property.
Others include making a lasting impression on guest, family and even strangers that happen to ride by your property. Sure this doesn't put money directly in the bank, but when you decide to sell your home or other property the money you've spent will earn you far more than the original cost of pressure washing your house.
So if time, equipment, and knowledge are not on your side, get in contact with a professional pressure washing company and we will give you a free estimate  or an evaluation of your property in case you have other areas that need to be pressure washed as well. Hire a professional to handle your house pressure washing chore and you can relax & enjoy your time off!
Call us at (813) 882-9022 or contact us online at: estimates@pressure-washing-tampa.com for a free quote from one of Tampa's best pressure washing companies.
Other popular services:
Is the exterior of your property just one of the things needing to be pressure washed? Homes are usually the biggest task but other things like decks, driveways, walkways and even your workshop may need to be cleaned along with your house. Take a look at some of the other pressure washing services we offer and make sure to check out our full package plan which offers a discount for doing all your pressure washing at the same time.