Pressure washing Tampa – wood restoration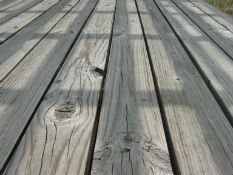 We all love to spend time outdoors with friends and family. And one of the best places to hang out is right on your wood deck. Cooking out, lying around, taking sun, and just relaxing are some of the outdoor activities you do on your deck. To enjoy these activities to the fullest, you want to make sure your wood deck is always clean & sealed properly; you don't want to have to change clothes just to hang out on your deck!
Deck cleaning not only requires the right equipment; you also need basic knowledge of wood and how to treat each kind. You must know if the wood in question can even be restored or if perhaps some or all of it needs to be replaced. Most decks (even the real bad looking ones) can be salvaged and cleaned.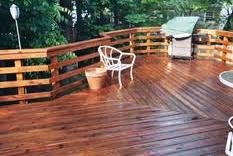 Pressure washing wood decks is only part of what really needs to be done. To get a complete wood restoration effect the deck also needs to be sealed, which creates a barrier from the elements and protects the wood, giving your deck or other wooden structure a much longer life span and saving you from having to build a new one too soon.
The best solution for pressure washing wood decks and performing the wood restoration steps necessary to protect your deck is to hire an expert pressure washing company to clean and treat your wood deck. Hiring an experienced pressure washing company can make a huge difference in the overall restoration, appearance, and longevity of your wood deck.
If you are ready to improve the condition and look of your wood deck, you can get a free Deck cleaning estimate from a seasoned pressure washing contractor that knows how to restore the beauty of your wooden deck. Applying the proper wood sealers and stains will help your deck last for years to come!
Call us at (813) 882-9022 or contact us online at: estimates@pressure-washing-tampa.com for a free quote from one of Tampa's best pressure washing companies.
Other popular services:
If your deck is not the only thing you need cleaned, make sure to check out some of our other pressure washing services for driveways, sidewalks and complete home exteriors. You can also take advantage of our full package power washing plan to get everything cleaned. Whether your needs are simple or complex, we can take care of them and get your home, deck, driveways and sidewalks looking their best while increasing the value of your property.